Everything You Do On Your Computer, Faster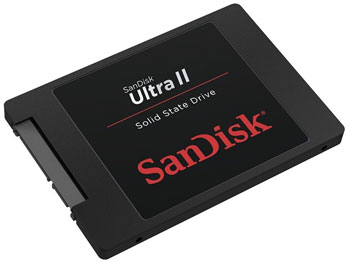 Boost your PC's performance up to 28x with an easy and affordable upgrade to SanDisk Ultra II SSD. You'll enjoy no wait boot up and shorter application load and data transfer times than your traditional hard drive ever delivered plus longer battery life and much cooler, quieter computing, too. No matter how you use your PC, SanDisk's nCache 2.0 technology makes for a better experience, delivering consistent high speed and endurance.
Up to 28 times better performance than a typical hard disk drive.
No wait boot up and shut down.
Faster app load and response times.
Up to 15% longer battery life.
nCache 2.0 technology delivers enhanced speed and endurance.
Shock resistant so your data's always safe even if you drop your computer.
Features
Performance Means More Than Just Speed
Speed is important, and SanDisk Ultra II SSD delivers it, but our performance test results measure more than the fastest speed a computer can achieve for a few seconds at a time. Performance means how long you can count on that speed, how consistently your PC responds, how many things you can do at once without stalling out. It means how well your drive withstands the stresses the world hands out. On a whole range of important metrics, SanDisk Ultra II SSD performs up to 28 times better than the hard disk drive you're using now.
Huge Storage Capacity, Built In
You keep lots of tunes, photos and videos on your PC. You use it for socializing, shopping, banking, email and your online classes. You play games by yourself or with other people. Add a few more dozen handy apps. And then there's work. Amazing how much space those presentations, PDFs, spread sheets and documents take up. With SanDisk Ultra II SSD, you can add enough capacity for everything you do on your computer, up to a monster 960GB, and still have room to spare.
Runs Cool and Quiet
Hard disk drives were great in their day, but let's face it, they had their downsides. First your laptop would get so hot you couldn't really hold it on your lap. Then the fan would start up and make a lot of noise. Sometimes you blew through your battery in what seemed like the blink of an eye. With a SanDisk Ultra II SSD, all that is history. With no moving parts inside, your PC will run cool and quiet, your battery will last up to 15% longer and you'll use less electricity too.
Always Know What's Going On
With our SanDisk SSD Dashboard, you always have visibility into how your drive's performing, what firmware updates are available, and what you can do to maintain peak performance. Additional third-party software features include :
Cloning software to create an exact replica of an old drive onto the new SanDisk Ultra II SSD in three easy steps with Apricorn's EZ GIG IV.
Antivirus protection for what consumers do most online email, socialize, and browse with Trend Micro, Titanium, Antivirus+.
Security service for reliably locating and returning stolen devices by Absolute LoJack, the leader in data protection and theft recovery.